Skip Navigation
Welcome Seawolves!


💥❗FREE MOVIE ALERT FOR SBU STUDENTS❗💥
That's right! All Stony Brook students are invited to a FREE SCREENING of A Quiet Place: Part II . If you missed this thrilling film while in theaters, now is your chance to see it for free! Join us on Sept. 10th, 2021, at 9:30pm. For more information and to RSVP, check out the event on SBEngaged here .
*SBID is required for admittance. Doors open at 9pm. General Admission seating. Staller Center for the Arts is located next to the Frank Melville Library. 
Are you interested in the arts? Become a Staller Center Student Ambassador! For more information, please email Paul.Newland@stonybrook.edu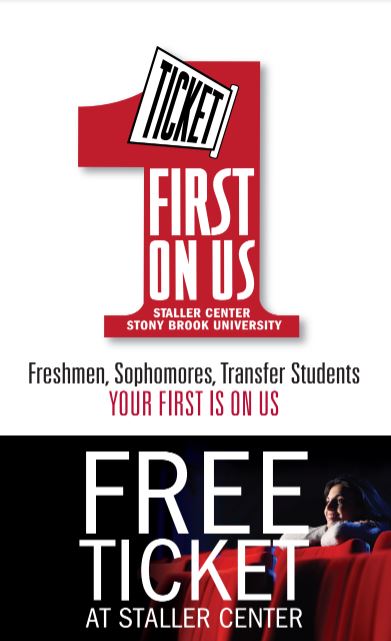 FIRST ON US
Did you know that all Freshmen, Sophomores, and Transfer Students get to come to their first show for FREE? Yep, it's true.
Bring your student ID to the box office (opens September 15) to redeem two tickets to the show of your choice!
Try us out for free during your first visit, and any show after that is only $10 for SBU students.
Interested in FIRST ON US?
Sign up with your email here
---
CONTACT US
Paul Newland, Outreach Director
paul.newland@stonybrook.edu
(631) 632-7238